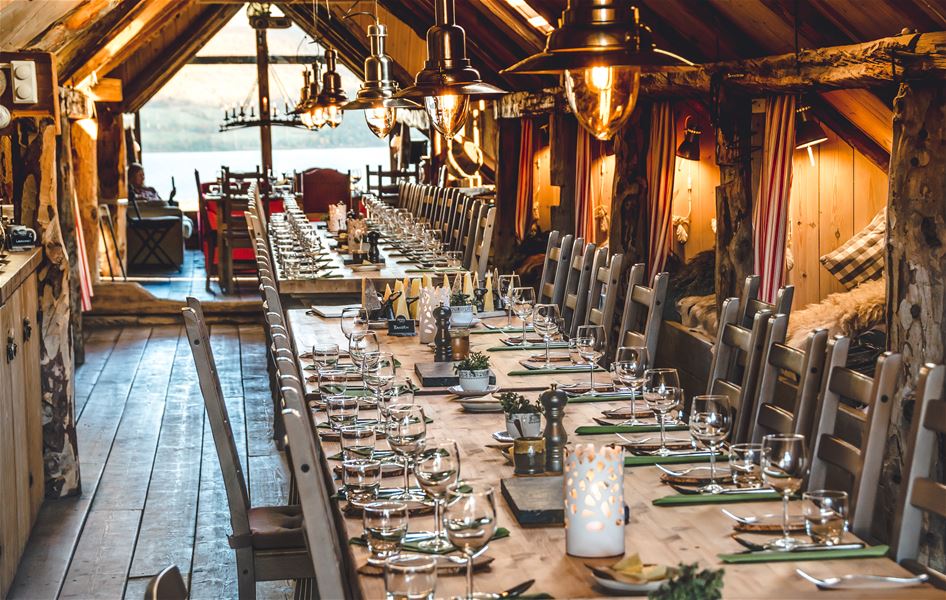 At Brimi seter we offer unique experiences by serving self produced food at the barn loft. You will get to know the farmyard and its history, and see how we produce our local cheese. Here you will experience a beautiful scenery, true stillness, and cultural history at its best.
We have accommodation for 30 people +/- spread on brisk (nine beds) in the barn and 11 room in three cabins. On the barn, we also serve food and have space for 40-50 persons. From here you have an overview of beautiful scenery through large windows.
Shared bathroom/shower on all accommodation.

Summer season
Every summer from about 19. June and to 21. August, we offer accommodation, mountain café, and our special 4-course dinner ''Skråpå-tå''. If you wish to visit us outside these months, please send us a request.

If you want to spend the night, enjoy the tranquillity of the mountains during the daytime and end it with a 4-course menu at the long table, before you crawl under the cushion on the barn, lavvu or room in the mountain cabins.

In the summer season, you can meet our animals. And there will be cheese production in the cheese factory everyday.

We have online booking for the summer season.

«Skråpå-tå» and our dining facilities:
At summertime, we have a set menu (4-course meal) at 19.00 every night. The name of this menu is «Skråpå-tå.»
This is our signature meal, and it is popular. This meal starts off with a fish soup with trout from the nearest lake Tesse. After this, the main dish is served, which consists of a plate of salad and our own homemade cured meats. The coal baskets (grills) are now brought to the table together with our homemade cheese, allowing you to serve yourself as it melts (raclette). Then we barbeque some veal and pork (also our own stock) together with some potatoes and mushroom sauce. The menu ends up with a symphony of desserts made of dairy-produce and berries.
Hans or Ola will also tell some story about our place here before the dinner starts.

Café:
If you do not want a 4-course meal, it is possible to have dinner in our cafeteria between 11 a.m. and 6 p.m. Here we serve traditional Norwegian Food, like meat soup and sour cream porridge.