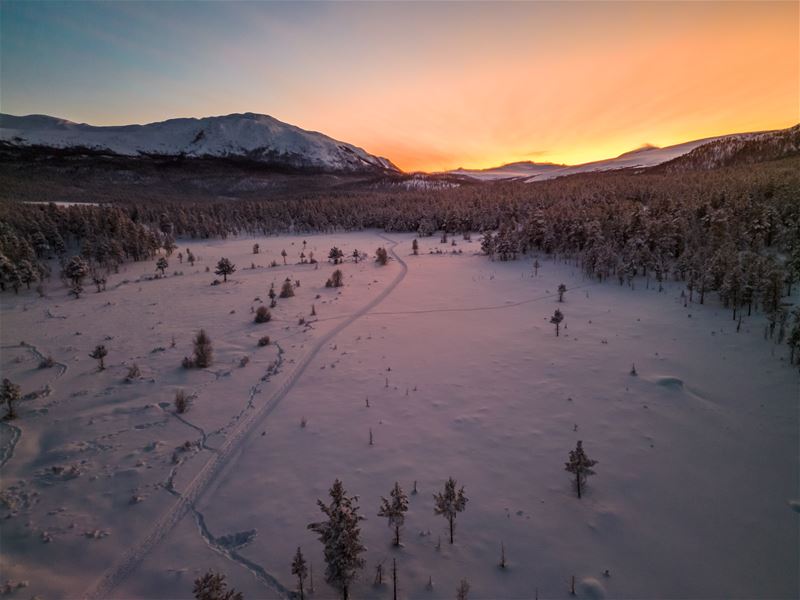 Sjodalen Hyttetun and Camping
Sjodalen Hyttetun and Camping offer idyllic accommodation with self-catering cabins and our famous hotel rooms in the forest concept. Our campsite is surrounded by the most spectacular nature and experiences of what Norway has to offer. Are you ready for your adventure?
We offer everything from affordable cabins with self-catering to our exclusive hotel rooms in the forest concept, all in the midst of the purest nature of what Norway has to offer. We have ten cabins with toilet, shower and two bedrooms which are suitable for 4-5 people, two of simpler standard and our famous Adventure cabins which are often referred to Hobbit houses. Here there is room for 2 people with a made-up bed and with various catering opportunities. In addition, we have parking space for motorhomes and caravans, 20 of them with electricity, As well as tent sites. For those who wish to soar in the trees next to the squirrels, we have 5 tents that are hovering between trees set up from June 15th-September 1st.
 
We are located at the forest edge in the valley that follows Norway's largest and best rated rafting river Sjoa and the National Tourist Route Valdresflya (Fv 51), 850 metres above sea level. 20 kilometres south is the famous hiking mountain Besseggen and Gjende, while the ski resort at Lemonsjøen is 16 kilometres north.
 
During the summer season, the hike over Besseggen is the most popular, but there are also a number of other hiking oppurtunities. From the local 2000 metre mountain peaks to the less demanding hikes such as Hulderstigen which winds through the valley along Sjoa. In the river, in addition to rafting, there are also opportunities to put out a kayak, fish or swim. Sjodalen is an Eldorado for those who like cycling. Here is an infinity of possibilities on exciting gravel and forest roads, and a little in the terrain cycling for those who might want it. In the Lemonsjø area, a separate bicycle park has been built.
 
During the winter, there are over 80 kilometres of marked and groomed ski trails in the area. Several of them go through the camp site and make our bar, Gammen a natural place to stop with a waffle or our bestseller Svele which is a raised pancake while sipping a hot or cold refreshment.
 
For those who do not want to cook their own food, we can also offer dining with everything from breakfast to full meals. Here we also have a kiosk and some groceries that will probably be able to help those who have forgotten the most necessary. Gammen Fjellpub is open during the summer season and some weekends throughout the autumn and winter, here we have all rights for alcoholic beverages. Gammen Fjellpub can also be rented for events, contact us if interested. We have recently finished our Northern lights Lavo that is also available for events.
 
We offer lots of activities such as:
• Dog sledding | Summer and winter
• Rafting | In the top-rated rafting river Sjoa
• Sagaskogen | Paths surrounding the campsite with various exciting stories
• Exercise trails | For those who wish to be active on the vacation
• Saga 61 degrees ° N | Our outdoor escape room
• Guiding | Local hikes and mountain hikes
 
Opening hours:
We are open all year!
Contact Information
Address: Sjodalsvegen 1234, 2680 Tessanden
More Information
Restaurant
Access to kitchen
Breakfast
Café
WiFi
Stepless access
Family Friendly
Pets allowed
Number of bars: 1