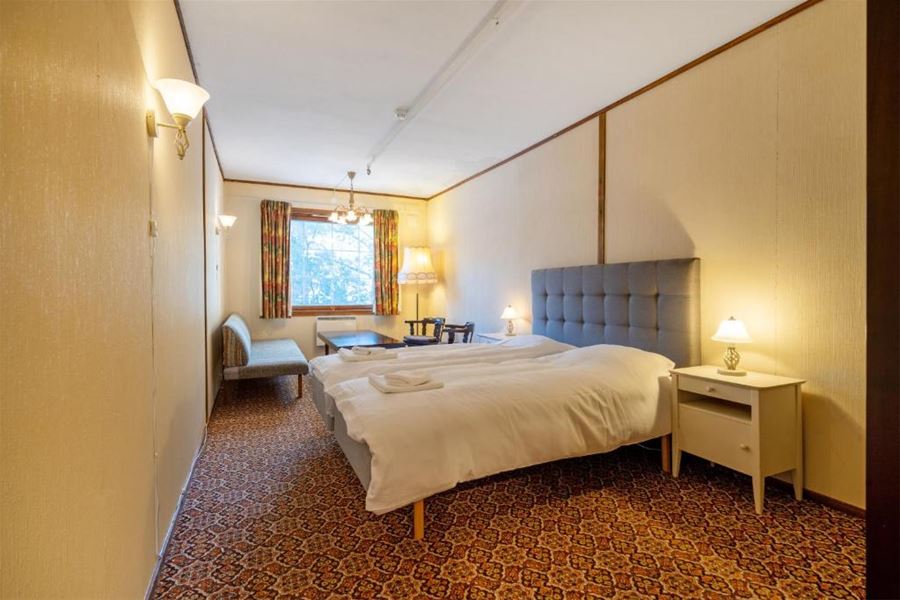 The hotel

Escape the crowds and unwind at Pollfoss Hotell, this historic boutique hotel offers
you 26 comfortable rooms with ensuite bathroom, à la carte restaurant and lounge
areas. The hotel is located in a picturesque setting that offers plenty of opportunities
for adventure and outdoor activities.
If you are planning a stay at Pollfoss Hotell, you can expect to enjoy the hotels
comfortable and historic ambiance. The lounge areas provide a cozy atmosphere
where you can relax with a book or enjoy a drink with friends. The restaurant serves
delicious meals, featuring local ingredients and traditional Norwegian cuisine.
The 26 rooms are spacious and you can find some vintage details here as well. All
the rooms are provided with en-suite bathrooms and stunning views of the
surrounding mountains and the Pollfossen waterfall.
The restaurant
In the restaurant guests can choose from a range of dishes from the à la carte menu,
allowing them to select their preferred options from various appetizers, entrees, and
desserts.
The restaurants location with a view over the waterfall provides a mesmerizing and
natural backdrop, and customers can enjoy the tranquil atmosphere while indulging
in their meals. The sound of the waterfall can add a calming effect, making the dining
experience more serene and peaceful.

The Spa
After an exciting day full of impressive memories you can relax in the hot tub.
The hot tub has a view over the Pollfossen waterfall and is surrounded by nature
Besides the hot tub the hotel is creating a spa provided with a panorama sauna and
relax room. Treat yourself on a peacefull or romantic getaway and contact the hotel
or the spa is ready for your upcoming getaway!.
Such an experience would be perfect for those looking for a peaceful retreat, a
romantic getaway, or simply a way to relax and unwind.

The area
Pollfoss Hotell is central located from all kind of famous sight-seeing.
On driving distance you find the world's famous Geirangerfjord which is a UNESCO
World Heritage site. Once you arrived here you will enjoy stunning views surrounded
by steep mountainsides and numerous waterfalls,

Speaking of mountains, the highest peak in Norway is Galdhøpiggen in Jotunheimen
national park, which is located near the hotel. The park is also home to several other
peaks, making it a popular destination for hiking enthusiasts.
If youre looking for a thrill, you might want to consider rafting down one of the nearby
rivers.
During the winter months you are able to enjoy the magical effect of snow and ice in
this area. Discover the snowy area with your cross-country skies or grab some
snowshoes and go hiking! This area has a network of trails that offer opportunities for
both beginners and experienced skiers.
Contact Information
Address: Skjåkvegen 3484, 2694 Skjåk